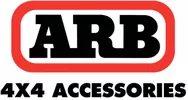 P/N: RK9 / JM-02883
Product Description
ARB USA now offers a complete pre-assembled boxed kit, the ARB premium Recovery Kit includes everything the off-roader needs to get started. Whether it be a simple snatch recovery or a more serious winch recovery, the ARB premium recovery kit has it all. The premium recovery kit represents exceptional value and a savings over purchasing each component individually.
KIT CONTENTS
- 1x P/No. ARB501 Recovery Bag Large
- 1x P/No. ARB705 17,500lb Snatch Strap
- 1x P/No. ARB730 26,500lb x 10' Tree Trunk Protector
- 1x P/No. ARB720 9,900lb x 66' Winch Extension Strap
- 1x P/No. ARB220 Recovery Damper
- 1x P/No. GLOVES Leather Recovery Gloves
- 2x P/No. ARB207D 10,640lbs, 3/4" Pin, D-Shackle
- 1x P/No. 10100020 Snatch Block 9000
Note:
The ARB Premium Recovery Kit (P/No. RK9US) is not suitable for all vehicles. Please verify your recovery working loads before ordering the kit. ARB recommends using a snatch strap that is 3-4x the vehicle weight, therefore, ARB recommends this kit for vehicles 5,600lbs and under. Perfect for Jeep Wranglers, small pick-ups like the Toyota Tacoma and small SUVs like the FJ Cruiser, Nissan Xterra and Toyota 4Runner.
Manufacturer - ARB
ARB is Australia's largest manufacturer and distributor of 4x4 accessories. ARB have an international presence, with an office in the US and an export network that extends through more than 80 countries around the globe. ARB philosophy, however, has never wavered from its original course – quality, reliability and practicality above all else.
ARB's range of 4WD accessories has been specifically designed to suit your vehicle and ensure you're prepared for any off road adventure you choose to take on. All ARB products are tested to the highest standards and subject to a comprehensive minimum two year warranty, ARB deliver exceptional quality and service giving you piece of mind.
Need help or have a question?
Chat to us online, call our office (weekdays 9am-5.00pm) or email us and we'll get back to you!
01482 666 491