£24.50 inc VAT
£20.42 ex VAT
Add to basket
Available for immediate dispatch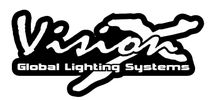 P/N: PCV-CP1YFL / JM-05897
Product Description
Fits 4.5 / 4.7" Vision X Light Cannon
Each Light Cannon is 25 lights in one with the help of snap-on polycarbonate covers that can alter the beam pattern and change the color of the Cannon. Tackle any weather condition with the proper color cover or quickly change your spot cover to a flood cover for a wider beam when necessary.
AMBER | FOG
Battles fog conditions by reducing the amount of blue light. Mimics classic Halogen color temperature. Great for driving in dust at high
speeds.

Flood beam: Maximum vertical field of view illumination in exchange for distance effectiveness.
Sold individually 
Manufacturer - Vision X lighting
You will find Vision X lighting is found everywhere. The military, border patrol, and even NASA have trusted Vision X on vehicles that cannot work with second best. Vision X is also trusted in the desert on off road vehicles that depend on seeing at night.

But Vision X Lighting Solutions are not just for the professionals; the Vision X product line is diverse and has product available for all markets. Vision X can be found on boat towers, off road vehicles, all terrain vehicles, and onroad vehicles like cars and motorcycles. Whatever the need, Vision X has a product to meet and exceed your expectation.
The Key to Vision X's ongoing success, un-matched quality, valuing customer input, and performance. Vision X has a team of world class engineers who have taken outlandish concepts from conception and put them into production. Vision X engineers are never afraid of re-examining products to find ways to better serve customers. Since its conception, Vision X has listened to the end user and put their ideas into action to further the quality, performance, and functionality of all vision X products.
Need help or have a question?
Chat to us online, call our office (weekdays 9am-5.00pm) or email us and we'll get back to you!
01482 666 491