£995.00 inc VAT
£829.17 ex VAT
Add to basket
Available for immediate dispatch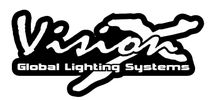 P/N: XPR-H27S / JM-05901/C
Product Description
Race Series Halo For Ultimate Distance Output

IRIS reflector technology
The Vision X XPR-HM has been updated with new IRIS reflector technology to give 40-90% more distance than the XPR series, and features Prime Drive Technology, a Custom beam pattern that offers you great distance with spread to the beam, a halo ring consisting of the reflector holder to act as a daytime running halo, and black aluminum housing. The XPR-HM comes standard with an extended warranty, and multi-volt 11-32V DC input. This light offers multiple mounting options. Coming with Prime Drive for enhanced reliability & output and our new 10 watt LED's this light has an extraordinary light output.

The 10-watt LEDs in these light bars are paired with IRIS reflector technology to project usable light further than ever before possible. IRIS reflector technology was first introduced with the Optimus Series in 2012, using deeply recessed reflectors to achieve unmatched distance in a light of that size.

The XPR light bars create an unmatched distance option in LED Light Bars. The 27 LED light bar produces 1,600ft of usable light. Another new innovation in these light bars is the use of tilting reflectors, allowing the outer 3 LEDs on each end of the light bars (sizes above 6 LED) to tilt out to create a mixed or combo beam pattern. Increasing the spread of the light, tilting reflectors creates even more visibility for the driver.

The XPR series offers several mounting options, Vision X's patented feet mounts, new end mount brackets, or pair the patented feet mounts with Vision X's billet tube mounts (available as an accessory) to mount to roll cages or any tube framing. New end mounts securely fasten to the housing with two bolts and lock washers per end, and allow for vertical adjustment once mounted.

With Halo backlight function
LEDs: 10W Per LED
Housing Material: Aluminium
Light Colour Temp: 6000 Kelvin
Voltage: 11-32V DC
Amperage: [email protected] DC - [email protected] DC
Vibration Rating: 21 Grms
Lens Material: Polycarbonate
Xtreme Five Watt LED is Driven to 90% Efficiency
Proprietary IRIS Reflector Technology
Dual Mounting Standard
Weatherproof Deutsch Connector
Certifications: CE, RoHS, IEC 62471, E-Mark
Manufacturer - Vision X lighting
You will find Vision X lighting is found everywhere. The military, border patrol, and even NASA have trusted Vision X on vehicles that cannot work with second best. Vision X is also trusted in the desert on off road vehicles that depend on seeing at night.

But Vision X Lighting Solutions are not just for the professionals; the Vision X product line is diverse and has product available for all markets. Vision X can be found on boat towers, off road vehicles, all terrain vehicles, and onroad vehicles like cars and motorcycles. Whatever the need, Vision X has a product to meet and exceed your expectation.
The Key to Vision X's ongoing success, un-matched quality, valuing customer input, and performance. Vision X has a team of world class engineers who have taken outlandish concepts from conception and put them into production. Vision X engineers are never afraid of re-examining products to find ways to better serve customers. Since its conception, Vision X has listened to the end user and put their ideas into action to further the quality, performance, and functionality of all vision X products.
Need help or have a question?
Chat to us online, call our office (weekdays 9am-5.00pm) or email us and we'll get back to you!
01482 666 491