£210.00 inc VAT
£175.00 ex VAT
Add to basket
Available for 3-7 days delivery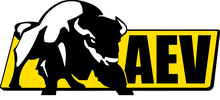 P/N: 10305060AD / JM-02736
Product Description
Fits:
Jeep Wrangler (2007-2015); With AEV Bumper
AEV's Winch Mount is constructed from 1/4" steel and given an e-coat finish for industry leading durability. It tucks neatly between the frame rails and is compatible with our Premium Front Bumper and Tubeless Bumper. AEV recommends the WARN 9.5cti for their ease of installation and proven performance.

Key Features:
Fits most Warn winches up to 9500 lbs. 

Will not fit PowerPlant or 8274. 

Corrosion resistant finish 

1/4" stamped steel 

Compatible with the AEV Premium Front Bumper and Tubeless Front Bumper 

Installs independent of the front bumper

Product Information
Click on a link below to view additional information about this product.
Manufacturer - AEV
For more than 15 years, American Expedition Vehicles has been on the cutting edge of the 4WD industry, constantly pushing the boundaries of design and innovation. AEV goal is simple: to provide the highest quality Jeep Wrangler accessories available anywhere in the world, period. Not just a wheel company making hundreds of different designs or a suspension company making products for twenty different vehicles. Quite simply, AEV is a Jeep Wrangler company.
Need help or have a question?
Chat to us online, call our office (weekdays 9am-5.30pm) or email us and we'll get back to you!
01482 666 491