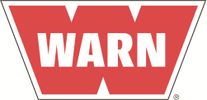 P/N: 95000 / JM-02133
Product Description
WARN 9.5cti
Ultimate performance, thermometric winch
The 9.5cti is the newest addition to the WARN Ultimate Performance winch lineup. A massive protective structure combined with sophisticated operator feedback delivers fast line speeds, and long duty cycles. The perfect winch for the serious off-roader.
Contactor control features exceptional durability, extra long life, and superior weather sealing

Motor-mounted thermal sensor relays temperature information to winch operator by way of the hand-held remote control with LED indicator

Redesigned remote control with thermometric indicator light

Series-wound motor and 3-stage planetary geartrain deliver 9,500 lbs. of pulling capacity

Extreme-duty winch sealing system

High gloss, chip-resistant black powder coat finish over a massive cast-aluminum alloy housing

Comes with steel winch rope, hook, remote control on 12' (3.7m) lead, and roller fairlead
Specifications:
Rated line pull: 
9,500 lbs., (4310 kgs.) single-line
Motor: 
Series wound
Electrical controls: 
Contactor
Remote Control: 
Remote switch, LED indicator, 12' (3.7m) lead
Geartrain: 
3-Stage planetary
Gear ratio: 
156:1
Clutch (freespooling): 
Sliding ring gear
Brake: 
Automatic mechanical cone brake
Drum diameter/Length: 
2.5"/9.0" (6.4cm/23cm)
Weight: 
89 lbs. (36.3 kgs)
Rope: 
Steel -- 125', 5/16" diameter
Fairlead: 
Roller
Recommended Battery: 
650 CCA minimum for winching
Battery leads: 
2 gauge, 72" (1.83m)
Finish: 
High-gloss powder coat over primer undercoating12V DC PERFORMANCE SPECS
Line Pull
Lbs.(Kgs.)Line Speed
FT./min(M/min.)Motor
CurrentPull by layer
layer/Lbs(Kgs.)
047.0 (14.32)42 amps1/9500 (4313)2000 (910)16.5 (5.02)140 amps2/8650 (3927)4000 (1810)12.0 (3.66)223 amps3/7920 (3595)6000 (2720)9.2 (2.80)307 amps4/7400 (3359)8000 (3630)7.1 (2.16)390 amps5/6940 (3150)9500 (4310)5.9 (1.80)452 ampsAbove performance specs are based on first layer of drum
Manufacturer - Warn
Warn Industries was founded in 1948 and manufactures a full line of off-road equipment and accessories that enhance the performance of four-wheel-drive vehicles, ATV's and utility vehicles. Warn is one of the world's most recognized brands in vehicle performance enhancing equipment.
Need help or have a question?
Chat to us online, call our office (weekdays 9am-5.30pm) or email us and we'll get back to you!
01482 666 491