£300.00 inc VAT
£250.00 ex VAT
Add to basket
Available for immediate dispatch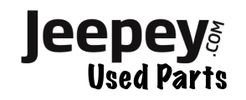 P/N: JMU-00050
Product Description
USED, PARTS
16x7" Genuine Jeep alloy Wheels from a 2000 TJ, Special 60th Anniversary 5 spoke design.
Some minor corrosion bubbles under coating.
Tyres 225/70R16; 4 x Maxxis Bravo Radia, 1 x Michelin LTX, Tyres used and aged, but with plenty of tread (5mm minimum), Michelin looks to have never been on road, used as spare. 
5x4.5" PCD fits:
Jeep Cherokee XJ, Jeep Wrangler TJ, Jeep Wrangler YJ, Jeep Grand Cherokee ZJ
Manufacturer - Jeepey Used Parts
These are specially selected used parts that are simply too good to scrap and as such are offered for sale to other Jeep owners.
These parts are used and previously fitted therefore 'Sold as Seen' and not subject to a manufacturers guarantee.
Need help or have a question?
Chat to us online, call our office (weekdays 9am-5.00pm) or email us and we'll get back to you!
01482 666 491