£127.91 inc VAT
£106.59 ex VAT
Add to basket
Available for 3-7 days delivery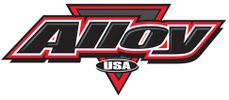 P/N: 61001 / JM-04469
Product Description
Fits:
Jeep Wrangler JL (2018+)
Alloy USA Front Leveling Kit raises your JL's front ride height by 1.5-inches for a more balanced ride height and enhanced performance. Each kit includes a pair of Kevlar®-infused polyurethane coil spring spacers and extended bump stops for an easy installation that requires no cutting or welding.
Manufacturer - Alloy USA
Alloy-USA, one of the brands from Omix-ADA, is a manufacturer of performance drive train products, high strength axle shafts and kits, and performance ring and pinion sets. We specialize in Jeeps, Chevy muscle cars, Mustangs, GM, Ford and Dodge trucks. Alloy USA team are off-road enthusiasts and have over 20 years of experience in the performance market, and we know what works and how to make it.
Need help or have a question?
Chat to us online, call our office (weekdays 9am-5.30pm) or email us and we'll get back to you!
01482 666 491