£849.95 inc VAT
£708.29 ex VAT
Add to basket
Available for immediate dispatch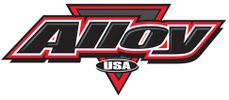 P/N: 360029 / JM-05411
Product Description
Fits:
Jeep Wrangler TJ (1997-2006) with Dana 30 front axle and 44 rear axle (standard spec for UK & Japan) 
Our complete ring and pinion kits are all you need to re-gear your Dana 30 front and Dana 44 rear axles. The kit includes ring and pinion gear sets Dana 30 and Dana 44, 4.56 ratio and overall kits with shims, pinion bearings and seals, inner axle bearings and seals, pinion nuts, ring gear bolts, and RTV.
Note: If factory ratio is 3.07 you will require the use of aftermarket carriers or diff lockers suitable for this ratio. 
Manufacturer - Alloy USA
Alloy-USA, one of the brands from Omix-ADA, is a manufacturer of performance drive train products, high strength axle shafts and kits, and performance ring and pinion sets. We specialize in Jeeps, Chevy muscle cars, Mustangs, GM, Ford and Dodge trucks. Alloy USA team are off-road enthusiasts and have over 20 years of experience in the performance market, and we know what works and how to make it.
Need help or have a question?
Chat to us online, call our office (weekdays 9am-5.00pm) or email us and we'll get back to you!
01482 666 491