£374.25 inc VAT
£311.88 ex VAT
Add to basket
Available for 3-7 days delivery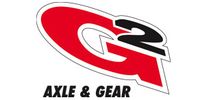 P/N: 0170.31 / JM-01530
Product Description
Fits:
Jeep Wrangler (JK) (2007-2018) Dana 44 Front Axle Rubicon Models (reverse cut gear)
G2's line of Performance Series ring and pinions are engineered and manufactured to handle the increased loads of today's performance vehicles. They are forged from 8620 steel to set a strong foundation, then precision-machined to OE specifications using the latest manufacturing techniques and state-of-the-art equipment. These tight tolerances ensure that they will be easy to set up and keep the noise level at OE specs. Next, the gears are heat treated for added durability to endure the harsh environments of a daily-driven vehicle. Finally, they are lapped to give the mating surface a smooth finish to reduce friction that can lead to noise and excessive wear.
Alternate part number: G2-2051-488R
Manufacturer - G2 Axle & Gear
When stock parts just won't cut it, G2 Axle & Gear has what you need to make your 4x4 faster, stronger and more reliable. Best known for our huge selection of ring and pinions, G2 also produces axle shafts, locking differentials, hubs, housings and even complete axle assemblies. G2 Axle & Gear are off-road driven and understand the environment their products are used in – that is how they come up with such innovative products to make your vehicle more reliable. With unmatched precision, strength, and quality, expect the best from G2 Axle & Gear.
Need help or have a question?
Chat to us online, call our office (weekdays 9am-5.30pm) or email us and we'll get back to you!
01482 666 491