£45.00 inc VAT
£37.50 ex VAT
Add to basket
Available for immediate dispatch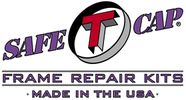 P/N: ART-122L / JM-05318
Product Description
Fits:
Jeep Wrangler YJ (1987-1995)
Rear upper shock mount area, Left 
Have you noticed the rust on the top of your frame where the upper shock mounts are? Dirt and debris gets trapped there, rusts out the steel and then allows the shock mount to tear away from the frame. We make an inexpensive Safe-T-Cap™ kit to fix the problem. Easy installation was our goal; cut away the rust, slide the Safe-T-Cap™ over the top and weld it up.Pilot holes are provided for perfect alignment of our ART-123 shock mount. Problem solved.Fits left side.

Manufacturer - SafeTCap
SafeTCap® started out as a special Mopar-focused manufacturing division of Auto Rust Technicians and as time and demand progressed branched out to include Jeep CJ/YJ/TJ lines. Chassis and tub repair kits are manufactured for durability and ease of installation by the DIY'r, SafeTCap® repair kits may be just what you need to save your chassis from the scrap heap.
Need help or have a question?
Chat to us online, call our office (weekdays 9am-5.00pm) or email us and we'll get back to you!
01482 666 491