£208.95 inc VAT
£174.12 ex VAT
Add to basket
Available for 3-7 days delivery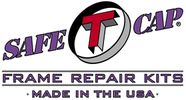 P/N: ART-142-L / JM-05194
Product Description
Fits:
Jeep Wrangler TJ (1997-2006) Left Side
Our SafeTCap ART-142-L is designed to be a direct replacement for the original rear upper coil spring mount on your Jeep TJ and LJ. The spring plate and the frame mount bracket are made from 11 gage cold rolled steel. There is a pre welded 2.5″ long bump stop mount tube included with an m10-1.5 weld nut. The attached frame mount bracket is made to slip over the frame after removing the old spring mount.
All of our frame repair kits are CNC cut and bent, and MIG welded in the USA.
Detailed instructions are included with each kit.

Manufacturer - SafeTCap
SafeTCap® started out as a special Mopar-focused manufacturing division of Auto Rust Technicians and as time and demand progressed branched out to include Jeep CJ/YJ/TJ lines. Chassis and tub repair kits are manufactured for durability and ease of installation by the DIY'r, SafeTCap® repair kits may be just what you need to save your chassis from the scrap heap.
Need help or have a question?
Chat to us online, call our office (weekdays 9am-5.30pm) or email us and we'll get back to you!
01482 666 491