£34.93 inc VAT
£29.11 ex VAT
Add to basket
Available for 3-7 days delivery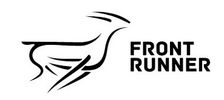 P/N: RRAC120 / JM-04769
Product Description
This Lockable Strap works with the Front Runner 45L Water Tank and Mounting System to keep your water supply safe, secure, and on your rack

Replaces the standard top segment of the strap that comes with the Water Tank With Mounting System / 45L
Securely locks the filler cap in place.
Provides peace of mind by preventing possible water theft or water contamination.
The hinging top section provides easy access to the filler cap without needing to loosen or remove the strap.
Comes with all installation hardware and simple step-by-step fitting instructions.
Product Information
Click on a link below to view additional information about this product.
Manufacturer - Front Runner
Established as the premiere expedition vehicle outfitter in Africa, Europe, USA and Australia, Front Runner is a 15 year old South African based company founded by a team of engineers, designers, outdoor enthusiasts and professional off-road drivers. Front Runner offers the most advanced, versatile and widest range of vehicle based adventure travel accessories available.
Need help or have a question?
Chat to us online, call our office (weekdays 9am-5.30pm) or email us and we'll get back to you!
01482 666 491