£302.25 inc VAT
£251.88 ex VAT
Add to basket
Available for 3-7 days delivery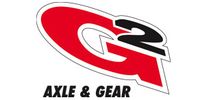 P/N: 0172.21 / JM-01496
Product Description
Fits:
Jeep Wrangler (JK) (2007-2018) Dana 44 Front Axle (Rubicon Models only)
Master Install Kit 
G2's premium master installation kits come complete with everything you need to properly set up your ring and pinion gear set. They include Timken bearings, ring gear bolts, shims to set pinion and carrier bearing preloads, pinion seal and pinion nut. All kits are packaged with the appropriate quality components to ensure a proper set up.
G2 PN: 35-2051

Manufacturer - G2 Axle & Gear
When stock parts just won't cut it, G2 Axle & Gear has what you need to make your 4x4 faster, stronger and more reliable. Best known for our huge selection of ring and pinions, G2 also produces axle shafts, locking differentials, hubs, housings and even complete axle assemblies. G2 Axle & Gear are off-road driven and understand the environment their products are used in – that is how they come up with such innovative products to make your vehicle more reliable. With unmatched precision, strength, and quality, expect the best from G2 Axle & Gear.
Need help or have a question?
Chat to us online, call during office hours (weekdays 8am-5pm) or email us and we'll get back to you!
01482 666 491