£184.95 inc VAT
£154.12 ex VAT
Add to basket
Available for 3-7 days delivery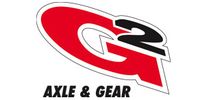 P/N: JM-05080 / G240-2151B
Product Description
Fits:
Jeep Wrangler JL (2018+) Rubicon with Front M210 Dana 44
For the most avid rock aficionados, G2 Axle & Gear has developed the latest iteration of our Hammer Series differential covers for the Jeep JL model. Cast from ductile iron and powder coated black, these covers are designed to protect your ring&pinion from impacts associated with rock crawling. The unique design reinforces the housing while protecting at the same time. Great detail has gone into the design of the cover to make sure that any extrusions are eliminated, to prevent the cover from haning on rocks and allow proper clearance for steering components

- Shot peened to relieve stress

- Heat-treated for strengt 

- Built-in fill plug

- Includes hardware and silicone sealant to prevent leaks

MADE IN THE USA

Manufacturer - G2 Axle & Gear
When stock parts just won't cut it, G2 Axle & Gear has what you need to make your 4x4 faster, stronger and more reliable. Best known for our huge selection of ring and pinions, G2 also produces axle shafts, locking differentials, hubs, housings and even complete axle assemblies. G2 Axle & Gear are off-road driven and understand the environment their products are used in – that is how they come up with such innovative products to make your vehicle more reliable. With unmatched precision, strength, and quality, expect the best from G2 Axle & Gear.
Need help or have a question?
Chat to us online, call our office (weekdays 9am-5.30pm) or email us and we'll get back to you!
01482 666 491