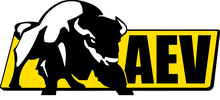 P/N: 10305031AA / JM-02772
Product Description
Fits:
Jeep Wrangler JK (2007-2015) with AEV Tyre Carrier PN: 10305020AC
Made of tough cross-link polyethylene, the same materials as many factory fuel tanks, the ingenious design of AEV's Fuel Caddy seamlessly integrates with the AEV Tire Carrier and takes full advantage of the unused space both inside the wheel of the spare tire and just behind it. The result is 10.2 gallons of secure and nearly invisible fuel storage. The high mounting position isolates the Fuel Caddy from trail impacts and makes it ideally suited for gravity fed deployment into the main tank. A fully vented, OE-quality cap means radical changes in elevation are no problem and fill-ups are fast. A built-in step allows for easy access to roof racks. Will accomodate up to a 37" tire.
Key Features:
• 10.2 gallons• Tough, Cross-link polyethylene• Fully vented OE-quality cap with large fill opening• High mounting position isolates the Fuel Caddy from trail impacts• Built-in foot step on upper right side allows easier access to roof racks• Molded in, full-color decals• Comes with a convenient shaker siphon for easy fuel retrieval
 Please Note: Installation of the Fuel Caddy requires the use of a 17" wheel.
Product Information
Click on a link below to view additional information about this product.
Manufacturer - AEV
For more than 15 years, American Expedition Vehicles has been on the cutting edge of the 4WD industry, constantly pushing the boundaries of design and innovation. AEV goal is simple: to provide the highest quality Jeep Wrangler accessories available anywhere in the world, period. Not just a wheel company making hundreds of different designs or a suspension company making products for twenty different vehicles. Quite simply, AEV is a Jeep Wrangler company.
Need help or have a question?
Chat to us online, call our office (weekdays 9am-5.00pm) or email us and we'll get back to you!
01482 666 491