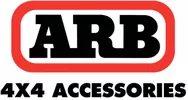 P/N: 3813030KJL / JM-05773
Product Description
Fits:
Jeep Wrangler JL 4 Door (2018+)
With the growing popularity of the Jeep Wrangler JL for overlanding and long distance travel, ARB has developed a Roof Rack Fitting Kit to fit in conjunction with ARB's range of roof racks. The fitting kit uses the strength of the Wrangler JL roll cage and tub to evenly distribute the load.
ARB's Roof Rack mount kit achieves a dynamic load rating of 287lbs by mounting directly to the vehicle roll cage and the top of the vehicle tub section. The internal frame kit is mounted with a combination of M6, M8, and M10 fasteners and includes rubber gaskets for the mount holes required to be drilled into the factory hardtop.
The Wrangler JL Roof Rack Fitting Kit is available in a 'kit' with roof rack to specifically suit the vehicle, 
Rack size 1190x1120mm
Kit includes:
JL 4 door fitting kit: 3750010

Steel Rack platform 1190x1120mm: 3813030

Protection and Styling Characteristics:
Vehicle-specific design to suit the Jeep Wrangler JL Unlimited with factory hardtop.

Note: Not suitable for vehicles fitted with a soft top or Sky One-TouchTM Power Top

Durable steel construction for maximum strength

Maximum Dynamic carrying capacity of 287lbs evenly distributed and adequately secured

Internal frame utilizes 35mm gusseted tube work

3mm laser cut and folded sheet steel used for other bracketry

Weight of the roof rack fitting kit is approximately 53lbs (excluding roof rack)

Internal componentry finished in Integrit-textured black powder coat. 

External componentry finished in millennium grey powder coat to match the ARB Roof Rack

Manufacturer - ARB
ARB is Australia's largest manufacturer and distributor of 4x4 accessories. ARB have an international presence, with an office in the US and an export network that extends through more than 80 countries around the globe. ARB philosophy, however, has never wavered from its original course – quality, reliability and practicality above all else.
ARB's range of 4WD accessories has been specifically designed to suit your vehicle and ensure you're prepared for any off road adventure you choose to take on. All ARB products are tested to the highest standards and subject to a comprehensive minimum two year warranty, ARB deliver exceptional quality and service giving you piece of mind.
Need help or have a question?
Chat to us online, call our office (weekdays 9am-5.00pm) or email us and we'll get back to you!
01482 666 491