£207.92 inc VAT
£173.27 ex VAT
Add to basket
Available for 3-7 days delivery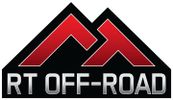 P/N: RT21026 / JM-00346
Product Description
Fits:
Jeep Wrangler (1997-2006); Adjustable upper rear control arms.
Correct your pinion angle after lifting your Jeep, Use these arms to beef up your stock suspension or build your own custom suspension kit.
Greasable Johnny Joint for extra suspension articulation.
Improve your Jeep's drivability with a set of RT Off-Road's Heavy Duty Front Upper Control Arm Set. A flex end is utilized to improve the articulation and relieve suspension binding while maintaining a smooth, comfortable ride. The adjustability of these control arms will allow the caster and pinion to be tuned to factory specifications. Each kit includes a pair of fully assembled, zinc plated control arms with a pair of greasable bolts for the flex end of the control arm.

Manufacturer - RT Off-Road
RT Off-Road manufacture a wide range of Jeep® accessories and heavy-duty components. RT Off-Road is a sub brand of Crown Automotive who has been providing the Jeep® industry with outstanding quality replacement parts for over 45 years. That same quality and experience can now be found in RT Off-Road Products.
Need help or have a question?
Chat to us online, call our office (weekdays 9am-5.30pm) or email us and we'll get back to you!
01482 666 491