£1,339.00 inc VAT
£1,115.83 ex VAT
Add to basket
Available for 3-7 days delivery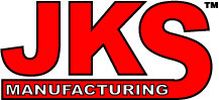 P/N: 107KN / JM-04018
Product Description
Fits:
Jeep Wrangler (JK) (2007-2016); 2 Door, Right Hand Drive
Fits Right Hand Drive Only
Front and rear dual rate coils springs
JKS MFG front adjustable trackbar
JKS MFG front sway bar quicker disconnects
Front and rear brake line relocation
Rear track bar bracket
Front and rear bump stop extensions
Shocks Not Included
SPEC™ Suspension launches with 2.5'' and 3.5'' systems designed specifically for 2007-2015 Jeep® Wrangler and Wrangler Unlimited JKs. Systems are ready to install right out of the box and feature detailed step-by-step instructions along with video tutorials to guide you through the process. Each package can be further customized to suit your individual performance requirements with optional accessories designed by JKS for JSPEC™. Every JSPEC™ Suspension package delivers exceptional value and is backed by American quality, workmanship and the JKS Lifetime Limited Warranty.
Each JSPEC™ Suspension system is designed with you in mind with top quality components working together in unison for exceptional performance on any terrain.
Front and Rear Dual Rate Coil Springs
At the heart of any true Jeep suspension "system" are properly designed coil springs. Not everyone does the same thing with their Jeep, therefore you need a system that adapts to different terrain as well as on and offroad situations. By developing tuned sets of dual rate coils springs, JSpec coils provide the best performance in any situation. Whether loaded down with gear for a week long expedition, running light for some rock-crawling fun or loaded with a few friends for a trip to the beach, JSpec coils will provide the ride you want with the performance you need.
JKS Adjustable Front Track Bar
When you think of adjustable Jeep track bars you think JKS. For years, Jeepers the world over have trusted JKS adjustable track bars for their strength, fit, function and durability. For those reasons it is a "no-brainer" that a JKS front adjustable track bar be an integral part of the JSpec JK suspension systems. The adjustable track bar dwarfs the factory component, offering fine adjustability of the front axle position to compensate for the additional lift height provided by the JSpec coil springs. Factory style rubber bushings are used at each end of the bar for quiet and compliant function. The 1-1/4"-12 threaded adjustable end provides fine-tune adjustability and superior strength when combined with the 1-1/2" x 3/8" wall DOM tube, CNC formed track bar. Adding an adjustable track bar versus a relocation bracket also keeps the JKs steering angles in-phase to provide great handling and keep bump steer in check.
JKS Front Sway Bar Quicker Disconnects
The flag-ship JKS Manufacturing product is the Quicker Disconnect. JKS was the originator of the sway bar disconnect concept. That original concept was perfected with the Quicker Disconnect design which still remains the best sway bar disconnect on the market today. Adjustable length and greasable with JKS-exclusive poly-flex ball, high-misalignment ends, the Quicker Disconnect is everything you want in a sway bar disconnect. Stainless steel mounting studs provide an anchoring point for each end of the links and allow for easy removal and installation. Rubicon owners, we haven't forgot about you. Want to maintain the function of the factory Rubicon disconnecting sway bar and still enjoy the benefits of the Quicker Disconnect adjustability, serviceability and misalignment ends? The proper hardware is included in the new JSpec suspension systems to bolt the Quicker Disconnect links to the axle and sway bar. This eliminates the disconnecting pins while maintaining the other great benefits of the links.
Front and Rear Brake Line Relocation
How much can you say about brake line relocation? Well, it is a necessity anytime a JK is lifted much over 2", especially with longer travel shocks. In most kits on the market these items are an after-thought but not in the JSpec kits. The JKS brake line brackets included in the JK JSpec suspension systems utilize the factory brake line mounting holes and locating tabs. This ensures that the brackets won't rotate and eventually come loose. The brackets were designed specifically to work with the shock lengths used with each JSPEC Suspension System. The result is just enough length at full axle droop with minimal modifications to the factory routing. And just as a reminder of where you they came from, the rear brackets get treated the famous 'JKS' oval logo sticker.
Rear Track Bar Bracket
As with the front suspension, the rear requires modification to the factory track bar setup to compensate for the new ride height. While the front gets a new track bar, the rear is treated with a track bar relocation bracket. The relocation bracket was chosen here for a couple reasons. First, by raising the track bar mount position at the axle we flatten the track bar angle and make a slight adjustment to the roll-center height which helps with handling and body roll. Second, the new track bar relocation bracket doubles as a factory axle bracket brace. The factory rear axle track bar mount has been a known weak link since the JK was first built in 2007. By making the new relocation bracket out heavy-duty 3/16" steel and bracing directly to the axle tube, the factory bracket is reinforced and up to the task of handling the new lifted height of the JSpec suspension system.
Front and Rear Bump Stop Extensions
The front and rear bump stop extensions, like brake line relocation brackets, are another component set that usually doesn't get much attention with most lift "kits" on the market. The bump stop extensions in the JK JSpec suspension systems were made specifically to maximize suspension travel while maintaining save compression limits for both the coil springs and Fox 2.0 shocks. The front extensions are made from 2-3/4" billet aluminum while the rear extensions are made from heavy-wall steel rectangular tube. Both sets fasten directly to the axle and are made to hold up to the abuse your new JSpec equipped JK is now built to handle.
Product Information
Click on a link below to view additional information about this product.
Manufacturer - JKS Manufacturing
Since 1989, JKS Manufacturing has developed some of the world's most widely used and respected products for Jeep® vehicles. It all started when we pioneered the original Quick Disconnect™ brand of quick-release sway bar disconnects. Since then our product range has expanded to include such favorites as the ACOS™ line of height-adjustable coil spring spacers, and perhaps our most advanced creation to date, the variable-rate SwitchBlade™ Sway bar System.
We are proud of the fact that we continue to manufacture all of our products right here in the USA, using only premium grade materials and state-of-the-art machinery. You can always rely on JKS products to provide unquestionable benefits to vehicle performance. From cushioning hard suspension impacts off-road, to restoring the geometry of your suspension for safer and more predictable handling on-road, our products improve the experience of owning and operating a Jeep vehicle.
And because JKS products take advantage of Original Equipment components and technology whenever possible, vehicle drivability and reliability are not compromised. Discover why recreational and competitive Jeep enthusiasts around the world insist upon JKS products to improve vehicle performance, reliability and versatility. It's no coincidence that those who know Jeep performance best choose JKS products for their own vehicles.
Need help or have a question?
Chat to us online, call our office (weekdays 9am-5.30pm) or email us and we'll get back to you!
01482 666 491